Over the past few months we've seen how everyday situations and things that used to seem rather ordinary have become something special. Not least, some of our habits have changed – many of us have rediscovered cycling or simply hopped on our bikes more often. That pleases us to no end, of course. :D


In view of these developments, we asked ourselves why cycling has seen such a global upswing, especially in the time of COVID 19, and whether this trend can be sustainable. That's why we asked you to tell us about how you experienced the bike boom. We've summed up the key findings of our little survey for you here.
First off, we were interested in the habitats of our 388 participants, with the majority saying that they lived in urban areas: some 27 per cent of the surveyed cyclists live in a big city, 20 per cent in a small city/large town, and 15 per cent in a medium-sized city. Around 22 per cent of the respondents live in a rural area.
Now, let's turn to the reason for the survey: we wanted to know why there has been such an increase in cycling in recent weeks and months (3 possible answers). Here are the results in detail: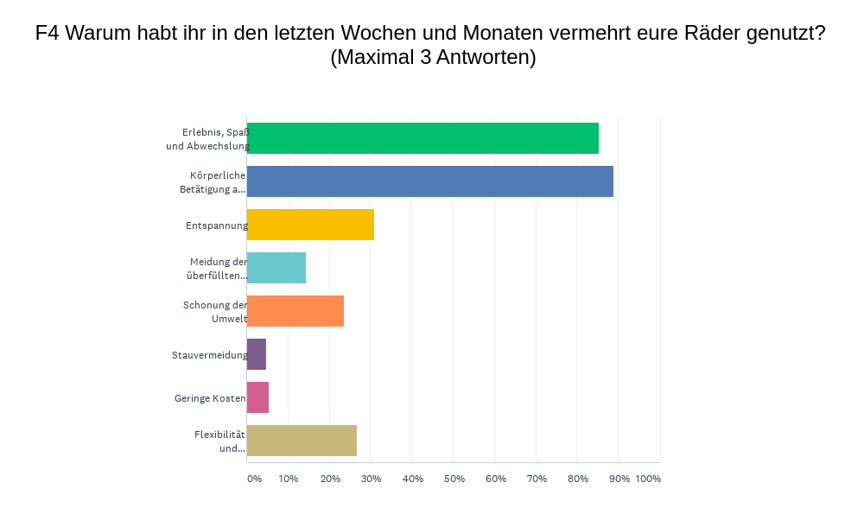 At nearly 90 per cent, physical activity in the fresh air came first, followed closely by pleasurable experience, fun and change of pace in second place, and relaxation in third.

Satisfaction with the cycling infrastructure was assessed on a scale of 0 (pretty dissatisfied) to 100 (very satisfied): The respondents had a neutral attitude towards the cycling infrastructure in their areas with a mean score of 54.
We were particularly pleased by the following finding: The overwhelming majority of participants (96 per cent) said that they wanted to use their bikes more often in future. In addition, some people mentioned as a reason for answering with "no" that there was no more leeway to increase their bike use because they had already maxed out their use of the bike. :))
The reasons given for not riding a bike more frequently were excessive distances, personal safety (e.g. lack of bike paths) and living in very mountainous areas.
This much is certain: Whether in leisure time or in everyday life, a bike is a great companion for young and old alike. We wanted to dig a little deeper, and so we asked you what types of trips you would use your bikes on more often (two possible answers):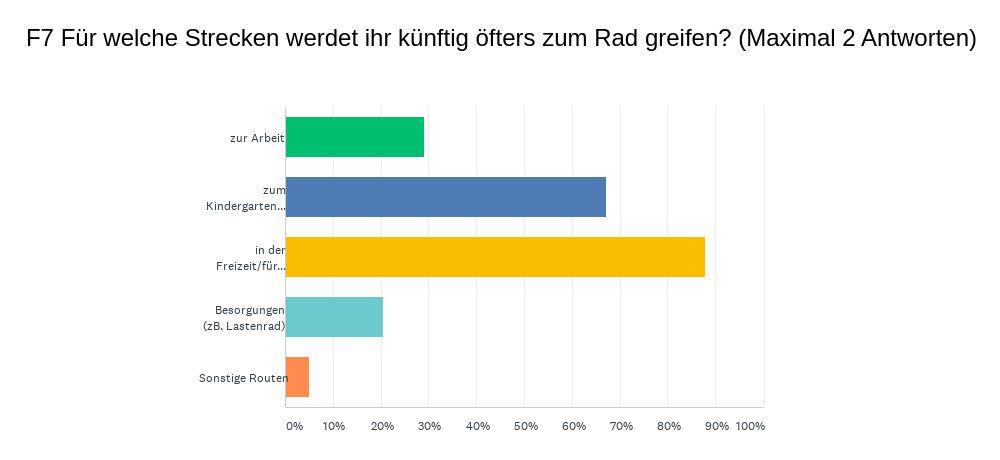 Nearly 90 per cent plan to use their bicycles more often for leisure activities or excursions. Coming in second were trips to kindergarten or school. Almost 30 per cent of respondents intend to use their bikes more often for the commute to work, and just over 20 per cent for running various errands.
Finally, we wanted to know what would have to change to make you get on a bike more often (three possible answers)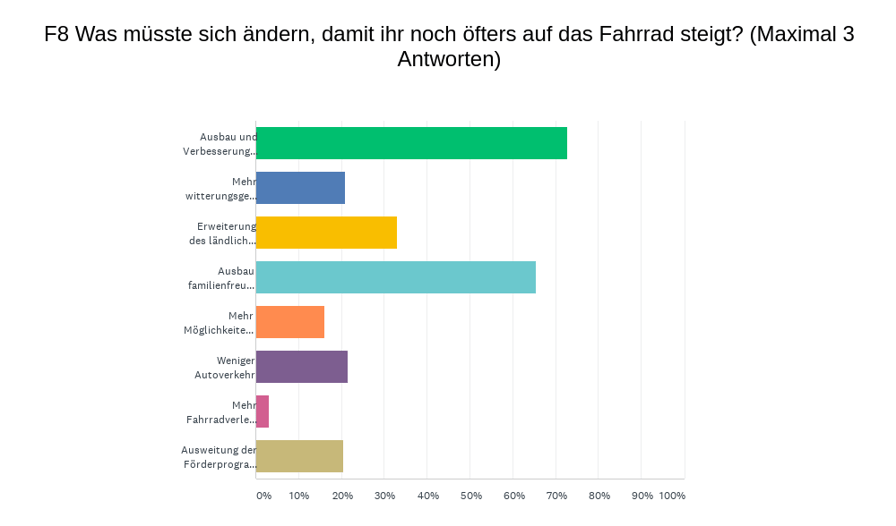 Just under 73 per cent of the participants would like to see bike paths extended and improved (width of paths, passing lanes, physical separation from motor vehicle traffic, and lighting).


This was followed by an increase in family-friendly routes and trails, at around 65 per cent of respondents.


Expanding the network of rural bicycle paths (opening of forest roads, maintenance, signage, etc.) would make 33 per cent of those questioned cycle more often.



In

4th and 5th place

, each with around

21 per cent

of respondents, were those who would welcome

less car

traffic

and more

secure parking spaces

protected from the elements.


In 6th place was the expansion of subsidy programmes for the purchase or repair of private bicycles, coming in at some 20 per cent.


And 16 per cent of those surveyed would like to see more options for taking their bikes with them on public transport.


Trailing the ranking, at 3 per cent, was the desire for more bicycle rental and sharing services.

According to our survey, bicycles have definitely gained more fans over the past few months and the signs are good that this is not just a flash in the pan but a trend with a future. The majority of you participants will continue to cycle, both in your free time and for everyday trips. In many places, immediate steps have already been taken in response to changing mobility behaviour and increased space requirements. Pop-up bike paths and car-free zones from Vienna to Brussels to Bogotá have proven to be necessary first steps and created an additional incentive to cycle instead of using cars or public transport. Last but not least, we can draw important lessons and insights for future mobility concepts and bike paths; for instance: where is more space needed and where are there dangers for cyclists? What safety measures and reforms in road traffic regulations are needed?
Once again a huge THANK YOU for taking part – we were delighted to see so many of you participating and to see that so many of you are as excited about cycling as we are. Ride on!