Pick up speed, lift up your legs and cruise away! These days, many kids are getting their first experience of travelling on two wheels at a very young age thanks to balance bikes.
Adding wobbly stabilisers to a standard pedal bike is no longer the done thing. Instead, balance bikes have been all the rage in recent years since they are a great way of getting little ones used to cycling. And we can't recommend them highly enough! As well as being the perfect introduction to the world of cycling, balance bikes help kids develop so many other skills...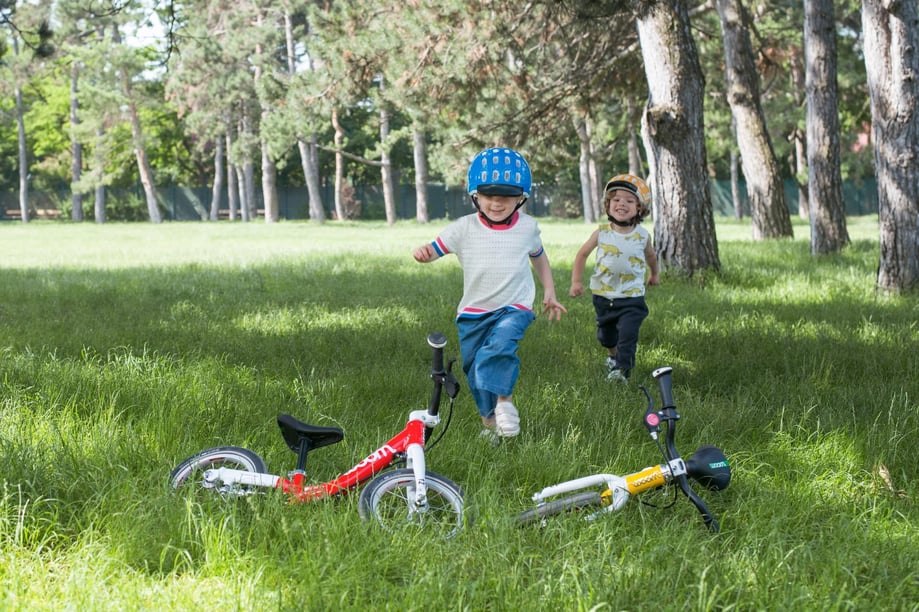 An urge to move
From the moment they start to shuffle and crawl around, your child's curiosity, love of movement and explorative nature grow each and every day. Once they can stand steadily on two feet, the best way for you to feed their growing desire to be on the move is with a balance bike. This will allow your little one to really let off steam as they build upon their movement skills in a way that gets all their senses involved and guarantees that they'll have a great time. That's fun and variety taken care of!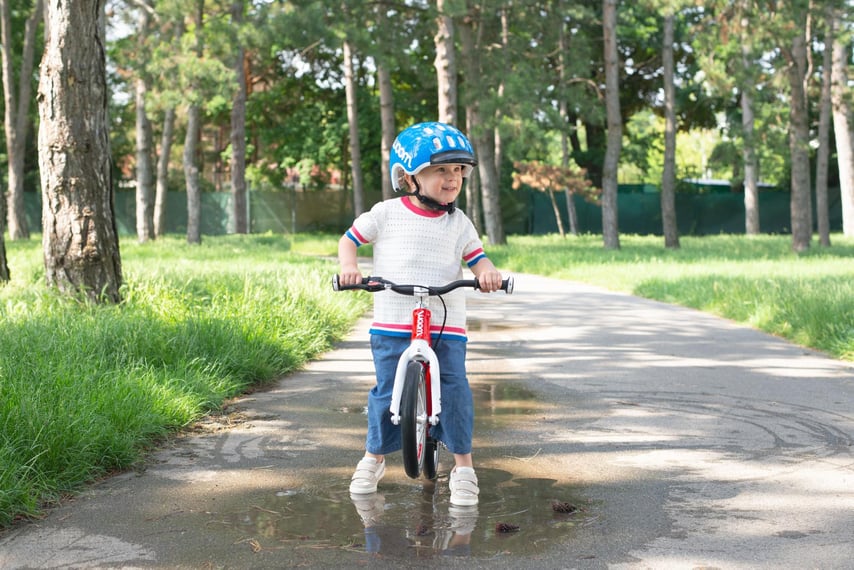 Once learned, never forgotten
Balance bikes are a fun way to prepare your child for riding a pedal bike later down the line. And you don't have to worry about them getting stressed. Your child will pick up all the key skills like balancing, steering and braking their bike. They will also learn how to coordinate the many different movements, with these motions being cemented in their memory. On top of all that, your child will develop a real feel for corners and speeds. When the time comes for them to switch to a standard bike, they will be very well prepared and will have no trouble picking up pedalling.
Safety training
Your child will be able to get used to riding their balance bike alongside road traffic (always on the pavement, of course) from an early age and this experience will prove invaluable. It's important to familiarise your child with all kinds of situations so they know what they need to do. Where might hazards arise? What's the right way to react? Always remember that children have a different way of viewing the world to adults – depending on their age and level of development. For example, their visual perception and hearing aren't fully developed, they take longer to react and they don't have an immediate awareness of danger. This means that they'll be relying on you to stay vigilant and pay close attention. You can read more on this here.
Health and fitness
Riding a balance bike is a great physical and mental workout. Your child burns energy with every move and their muscles and heart are strengthened because they are working harder and circulation is increased. As a general rule, kids who are always on the move don't lose their breath so quickly and they are more balanced psychologically.
Motor and cognitive skills
Balance bikes help your child in the development of their motor and cognitive skills. Children learn so much in the early years of their life. At this stage, they love getting stuck into new things and trying to overcome challenges on their own. Continuously repeating movements boosts your child's motor skills as new processes are stored in their brain. Your child will become attuned to their body and they will become more confident and skilled in the way they move. Plus, kids who get a lot of exercise on a daily basis are better at getting to grips with new situations, can concentrate on things for longer and have better spatial awareness. They need all of these skills if they are to tackle complex activities like riding a bike.
Language and speech development
Did you know that advanced fine and gross motor skills also lay the foundations for language and speech development? Kids pick up on environmental stimuli with their sensory organs. They then process them and react to them, which involves communication – of the non-verbal variety to start with followed by the verbal. Having the independence to be on the move will encourage your child's sense of adventure. They will want to explore their surroundings on their own and start naming things they find along the way. Their vocabulary will be boosted and they will develop a greater sense of trust in their own skills.
Not to mention that speech-related motor skills are essential for a child's speech development. Various muscles and speech organs need to be activated and coordinated.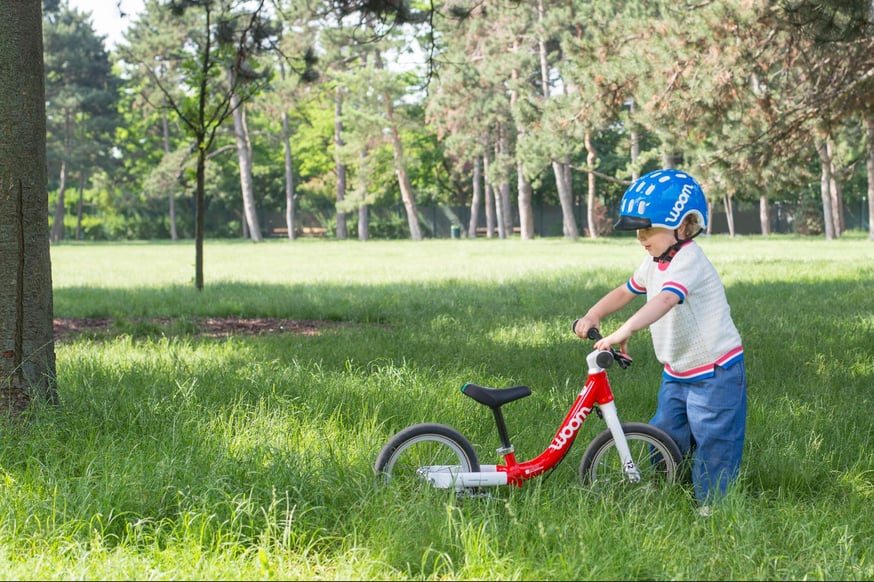 Success and failure
You may find that your child uses their balance bike as a toy to begin with and they may prefer just to push it around. But once they choose to sit in the saddle for the first time, it won't be long before they naturally achieve their first success. And this is so important when kids dare to try new things. Success is all about positive experiences that boost your child's confidence and help them trust their own body more. But kids also need to learn about setbacks and failure. Little bumps and grazed knees are an inevitable part of the learning process. Just use some encouraging words to get your child motivated and explain what they could have done to avoid a particular incident with their bike.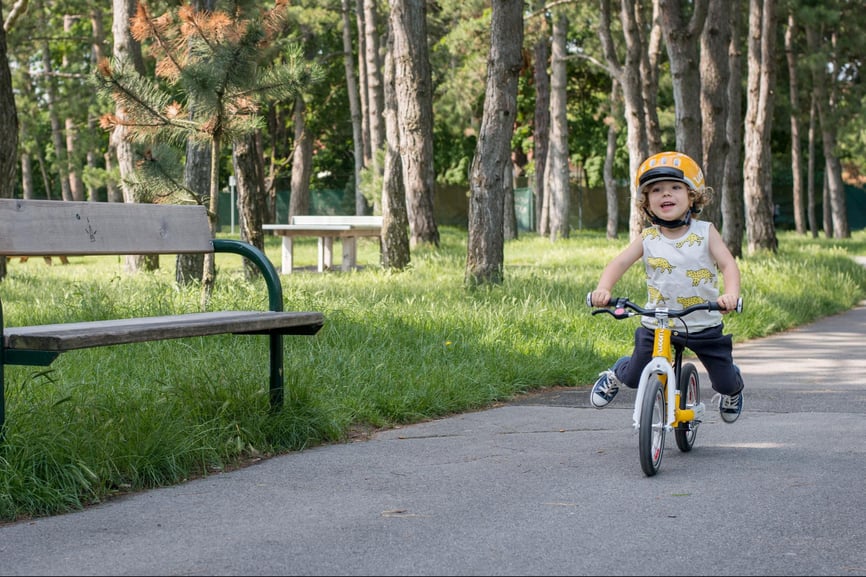 Independence
On a balance bike, your little one can take full control and be completely mobile. They can tackle relatively long stretches without having to rely on you to help them. New adventures await them and their range of motion suddenly grows. So they can move independently on long walks or the journey to nursery. What a bonus for you too :)
For your child, there's nothing quite like hopping on their balance bike and exploring the world around them. And the benefits speak for themselves!